The Long Now

DESIGN RESEARCH FELLOWSHIP & EXHIBITION / 2019
Designed in collaboration with Sean Lally, with support from Ade Ayoade, in conjunction with Exhibit Columbus. Supported by University Design Research Fellowship, Exhibit Columbus 2019.



Every site—every patch of Earth no matter how small—is comprised of an "enviornment" that binds wildly divergent scales of time.

'The Long Now' synthesized public data and public space into a mixed reality experience to engage varying scale of time in a changing climate. The outdoor installation for public engagement was comprised of two experiences: one physical and one digital. A mini-park integrated with full spectrum lighting, as used to combat Seasonal Affect Disorder, and underground heating elements was designed to offset the decrease in nourishing sunlight in fall and extend the growing season of grasses used by the public for gathering. The digital experience was comprised of local, regional, and global data on changing environmental conditions in different temporal phases, presented as interactive Augmented Reality (AR) "objects" tied to the physical site.

This applied design research was produced with a

University Desgin Research Fellowship

from Exhibit Columbus, in collaboration with

Sean Lally

, students from the

School of Architecture at the University of Illinois at Chicago,

and students from the

School of Archiecture and Interior Design

and the

Ulllman School of Design

at the University of Cincinnati, with technicalu support from Adetkunbo Ayoade. The site was the front lawn of First Christian Church, designed by Eliel Saarinen and built in 1942.

The project explored, synthesized through design, and demonstrated responses to several questions:
What novel opportunities exist for Augmented Reality (AR) to transform landscape &/or architecture into a physical experience also mediated with a digital overlay that is spatially fixed?

How can public climate data be translated intoexperiential interactiions with AR "objects" rather than straightforward visualizations?

What are the parameters of UX/UI for AR (navigation, orientation, interaction) and what first steps toward a codification of those possibilities can be demonstrated in a geographically fixed AR experience?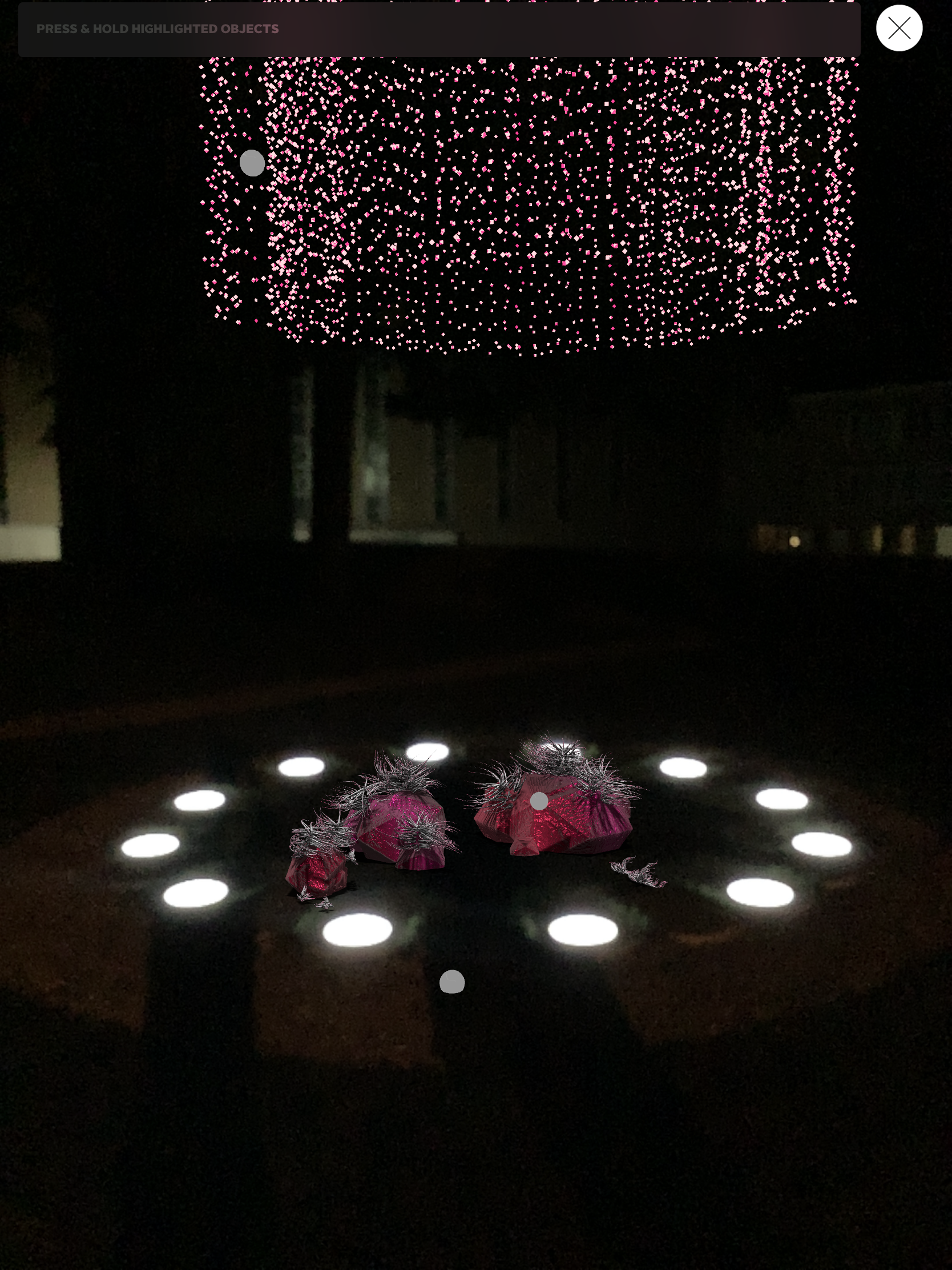 The AR Experience addresses a number of interaction design challenges novel to AR: in the initial installation, creating a suite of interactive 3D AR objects tethered to a physical installation, in the remote installation, creating a suite of AR objects in stable relation to each other which the user can explore by moving through the space; designing a suite of interactive 3D AR objects informed by environmental data; both of which set up the project's primary contribution to interaction design within AR, which is codifying and demonstrating a three-mode pattern of interactivity with 3D AR objects. This research contributed to new curriculum development:
Intro to UX/UI for AR
(University of Cincinnati).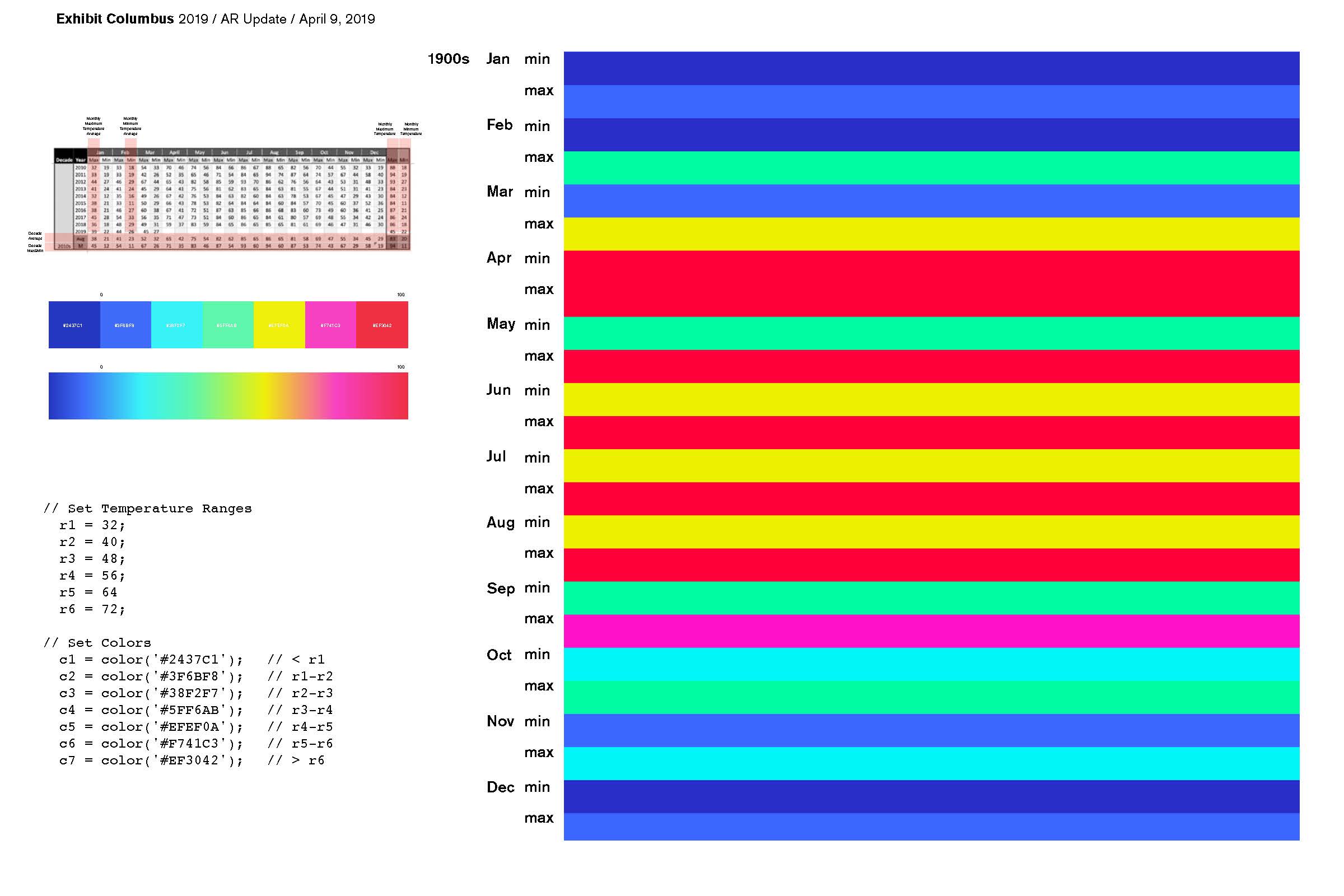 Temperture data dating to the late 1800s was sourced from a US EPA monitoring site in Columbus. Environmental researchers claim this area has increased average temperatures by ~1.8°F over the past century. By parsing the data into min/maxaverages by month, by decade, the data could be color coded in a way to make the warming of the site evident. By stepping into the "ring" and looking upward, visitors viewed a column of temperature data with more recent and hotter temperatures approaching their bodies.
—
Research and design methods for creating site specific data objects were documented in a research paper accepted with project demo at
NordiChi 2020
. This material also supported a new course on Interaction Design for AR, being taught to undergradute students in Communication Design at the University of Cincinnati, since 2019.
---
RELATED PUBLICATIONS
Wizinsky, M. & Ayoade, A. (2020)
"The Long Now: Site-specific interactive environmental data objects in augmented reality."
ACM Conference Proceedings of NordiCHI 2020.